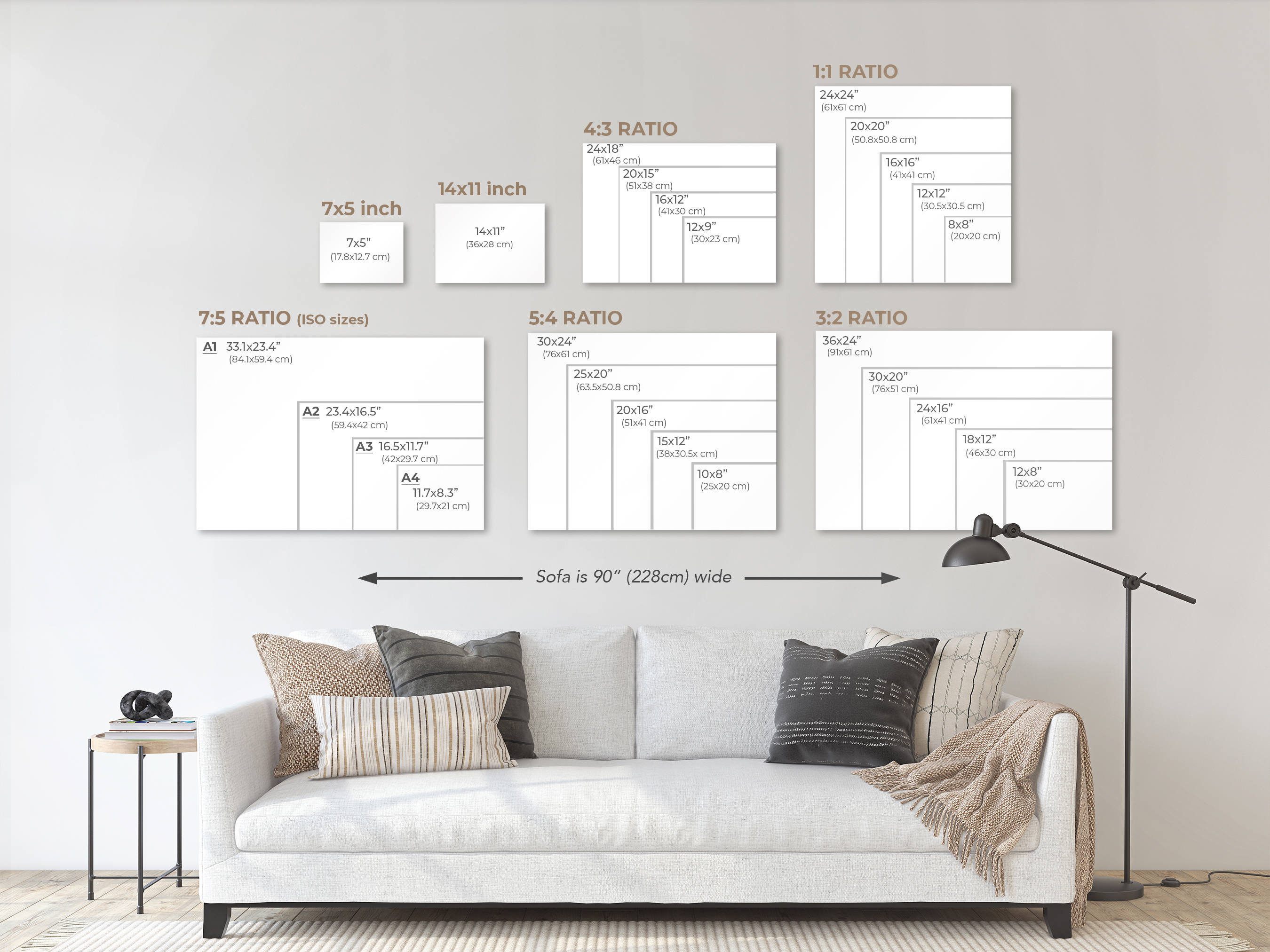 How do I know which print size to select? Sizing can depend a lot on personal preference, final framing options, and where the print is going (living room, bedroom, etc.) Above you'll find the most popular standard sizes for prints and how they compare to an average sofa. Some of our prints go up to 24x36, but please inquire if you'd like something larger!
How do digital downloads for my Frame TV work? Digital download files intended for a Frame TV are sent immediately after your purchase via email. Files arrive in 16:9 aspect ratio ready to be uploaded to your Frame TV artwork collection. Please reach out if you encounter any issues.
When can I expect my order? All prints

are made to order and shipped within 7 business days. Shipping time is usually 3-5 business days after that. Please reach out if you require expedited shipping.

Can I place a custom order? Absolutely! Just email us with what you're looking for and we'll send you a custom quote.
What if my package is damaged? If your new art print is damaged in transit, or in the unlikely case you receive a damaged item, we will quickly replace it for you free of charge. Please email us at [email protected] with your name and order number.

Can I return my print(s)?

If you are unsatisfied with your print for any reason, please reach out to us and we will do our best to resolve the issue.

Do you ship internationally?

Currently we only ship within the US. Hopefully we can expand this soon!

Can I shop your prints in person? Yes! We are currently stocked locally at Autumn Moon Store in Dallas, TX.
Is my information safe?

Your privacy matters to us. Our shop has SSL, which adds a layer of security when you enter your information at checkout. Payments are processed by Paypal and Stripe, which have a high level of security on all transactions.